---
Apple Watch Series 7
Full screen ahead
Largest, most advanced display yet.
Most durable Apple Watch ever.
Breakthrough health innovations.
Up to 33% faster charging.
Introducing our largest display yet
The larger display enhances the entire experience, making Apple Watch easier to use and read. Series 7 represents our biggest and brightest thinking yet.
Big screen. Huge impact.
The challenge was to create a bigger display while barely expanding the dimensions of the watch itself. To do so, the display was completely re‑engineered reducing the borders by 40 percent, allowing for more screen area than both Series 6 and Series 3. Now that's something to smile about. Over 50 percent more screen area than Series 3. 


Easy on the eyes.
 

Easy on the fingers.
Across the system, buttons have been redesigned to take advantage of the larger display. So using apps like Calculator and Stopwatch is easier than ever.
Across the system, buttons have been redesigned to take advantage of the larger display. So using apps like Calculator and Stopwatch is easier than ever.
Set multiple timers to keep track of lots of things at once. The larger screen and Reset button make viewing and tapping easier and faster for all finger types.
Always-On
 

Retina display.

 

A brighter view of you.
You don't need to raise your wrist or touch the screen to see the time or other information and complications on your watch face, because the display is always on. And now, it's 70% brighter indoors when your wrist is down.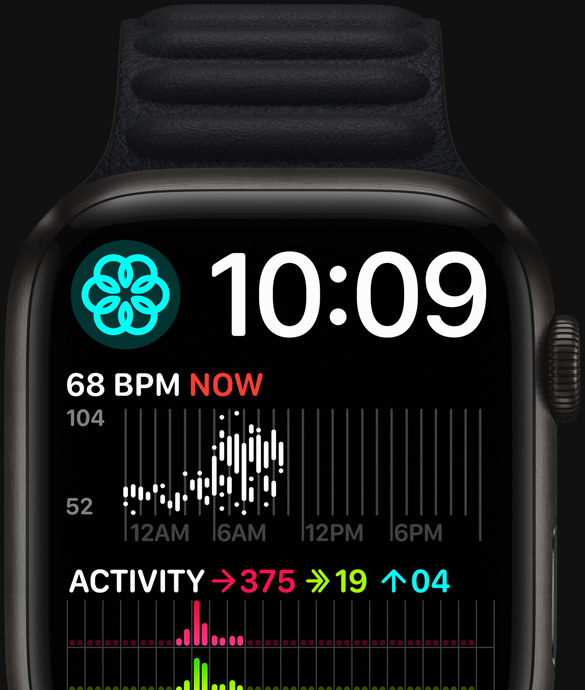 The future
 

of health On full display

Measure your blood oxygen level with a revolutionary sensor and app. Take an ECG anytime, anywhere. Check your heart rate. Along with other innovations like mindfulness and sleep tracking to keep you healthy from head to toe. Series 7 puts more health insights in sight.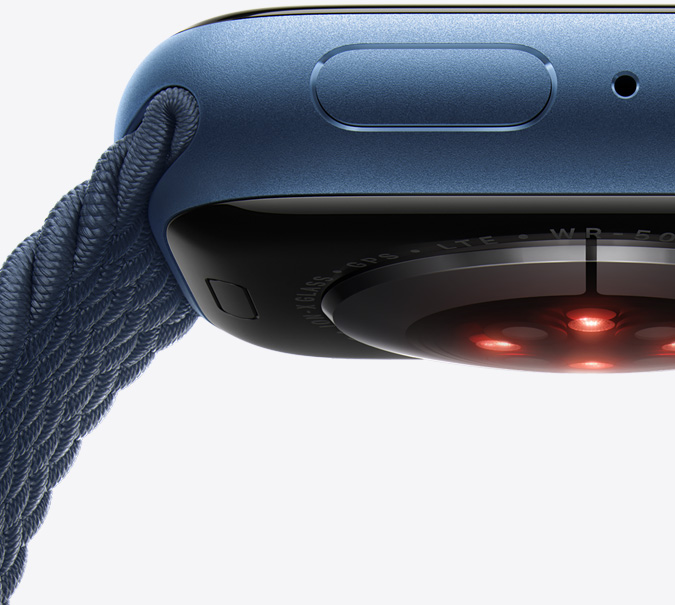 Measure your blood oxygen. It's a breathtaking innovation.
Your blood oxygen level is a key indicator of your overall wellness. It can help you understand how well your body is absorbing oxygen and the amount of oxygen delivered to your body. The remarkable sensor and app in Apple Watch Series 7 allow you to take on-demand readings of your blood oxygen as well as background readings, day and night
Take an ECG at any time.
With the ECG app, Apple Watch Series 7 is capable of generating an ECG similar to a single-lead electrocardiogram. It's a momentous achievement for a wearable device that can provide critical data for doctors and peace of mind for you.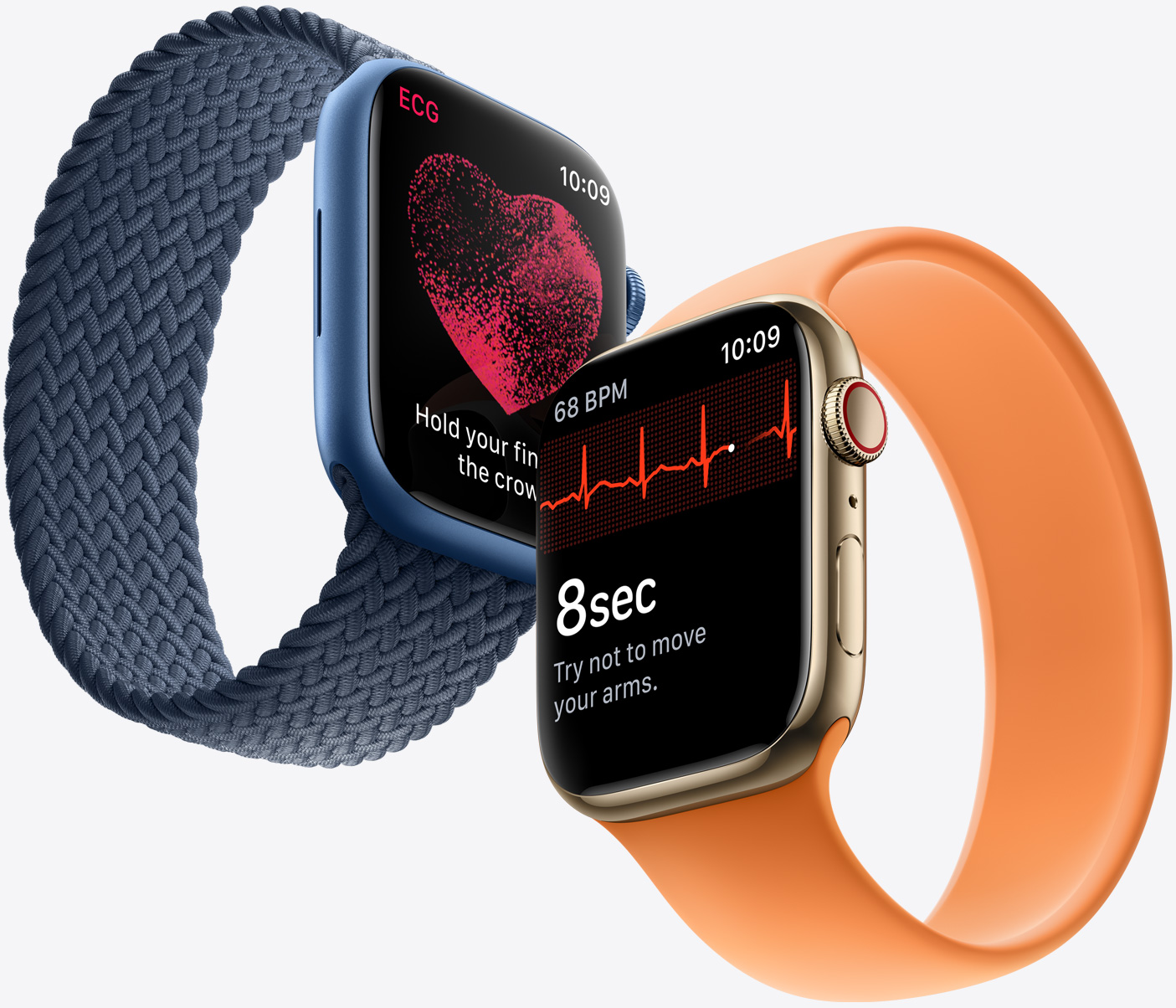 Your finger can tell you a lot about your heart.
Electrodes built into the Digital Crown and the back crystal work together with the ECG app to read your heart's electrical signals. Simply touch the Digital Crown to generate an ECG waveform in just 30 seconds. The ECG app can indicate whether your heart rhythm shows signs of atrial fibrillation — a serious form of irregular heart rhythm — or sinus rhythm, which means your heart is beating in a normal pattern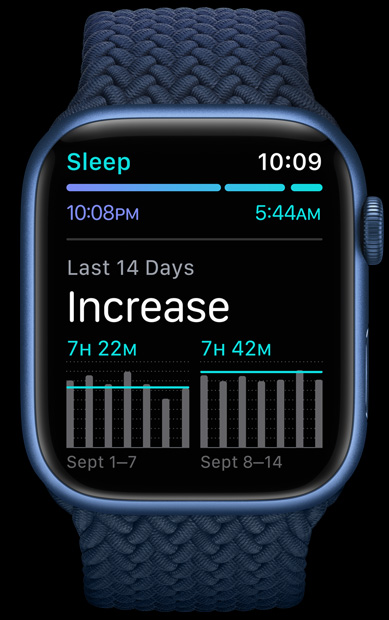 Dream machine.
The Sleep app doesn't just keep track of your sleep. It also helps you create a schedule and a bedtime routine so you can meet your sleep goals. It even tracks your respiratory rate while you're sleeping. How refreshing
Charges in no time.
The entire charging system for Apple Watch Series 7 has been rethought to get you up and running faster than ever. With an updated charging architecture and fast-charging USB-C cable, it takes about 45 minutes to go from 0 to 80% charge.
Up to33%faster charging than Series 6
8mins provides 8 hours of sleep tracking
Stay centered. Move ahead.
Taking a moment throughout the day to pause and breathe can reduce stress. The new Reflect feature in the Mindfulness app helps you set an intention and center yourself with a beautiful animation.
Massively motivating.
Tap into dozens of workouts. Track all the ways you move. Keep moving with millions of songs on Apple Music. Apple Watch Series 7 gives it everything. And thanks to the larger display, you'll see all your progress and metrics more quickly and clearly, in and out of the water. Let's go. There's more in there.
Fitness that revolves around you. 
Squat, serve, stride, you name it — Apple Watch has a workout for it. And now, there are Tai Chi and Pilates to get your endorphins going. The starting line is on your wrist.
Cycling finds a whole new gear.
 Apple Watch now automatically detects when you begin pedaling and reminds you to start a workout. Fall detection, now optimized for cycling and other workouts, can call emergency services if you take a spill. And to help you keep your eyes on the road, a voice feedback feature announces workout milestones, like speed, distance, and more. For e-bikes, an improved algorithm more accurately calculates calories.
H2O. You're good to go.
Apple Watch is water resistant to 50 meters. So whether you're in open water or tracking your splits and sets at the pool, you're covered.
Motivation
 

from

 

start to finish line.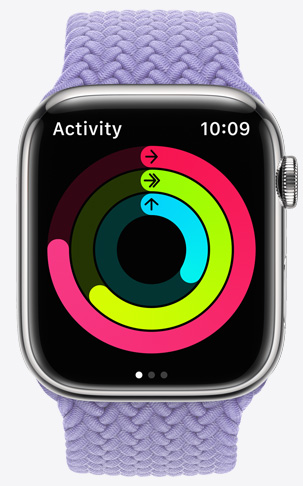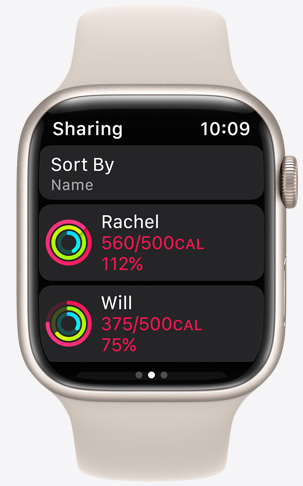 Music and Podcasts.
With Apple Music, you've got millions of tracks of musical motivation riding on your wrist. There are also podcasts to help you lose calories and yourself along the way.
Everything
 

you need. Everywhere

 

you go.

Just put on your Apple Watch and take off. Series 7 keeps all the things you care about front and center with its larger screen. And with available cellular, you can stay connected to your family, friends, music, notifications, photos, and more — even when you don't have your phone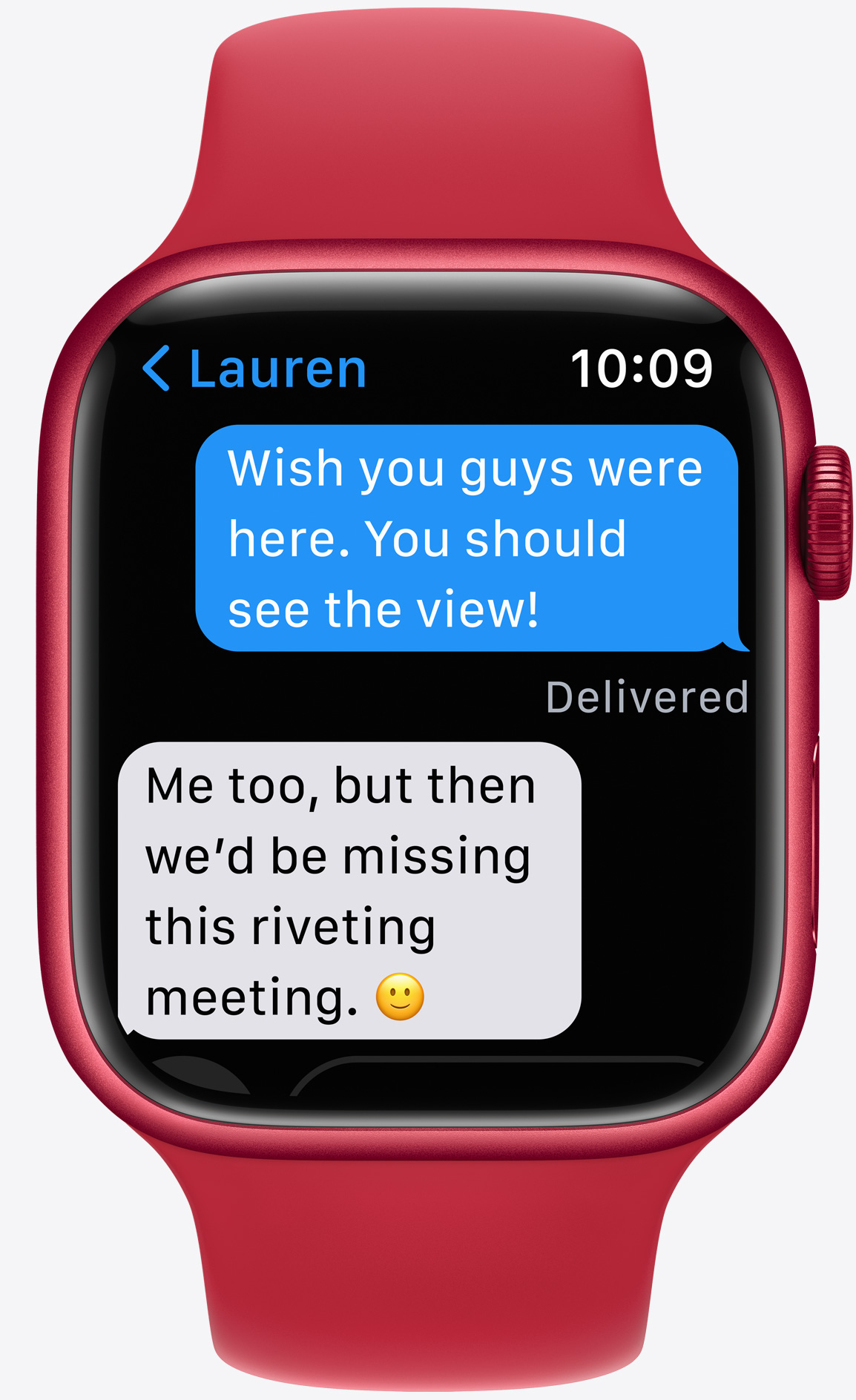 The freedom of cellular.
Take a call from the trail. Text a smiley face to your friends stuck in the office. Apple Watch with cellular gives you all the right connections. Feel free to leave your phone at home. 
Maps. Your guiding hand.
 Whether you're walking, driving, or taking public transit, Maps makes it easy every step of the way. Gentle taps from the Taptic Engine let you know when it's time to turn left or right, so you don't have to look at your watch.
What's in the Box